2000 BC
Bronze age burial mound of local warlord.
C.1200 AD
Medieval field system and farmstead.
1580
MacAdams arrive at Craigengillan.
1611
Crown charter grants them the land of Craigengillan.
1757
Estate inherited by John McAdam.
1765
Craigengillan House enlarged.
1802
Stable block and gate lodge completed.
1826
Ness Glen footpath first created, mansion house extended, ice house and tunnels built, Ladies Loch formed and polices developed.
1840
Northeast tower and crow-stepped gables added to Craigengillan House.
1899
40 horses sent to South Africa from Craigengillan for the relief of Mafeking.
1900
Formal gardens laid out.
1905
Jansen of Paris commissioned to remodel the interior. '20th Century interiors of international significance'.
Extensive rock and water garden created by the celebrated firm of James Pulham and Sons.
1914-1915
new hot houses built.
School of Aerial Gunnery airfield built on Promised Land.
1930s
Visitors to the estate included Prince Rainier the Third. The King and Queen of Sweden, Prime Ministers Baldwin and Chamberlain and Lord Redesdale, father of the Mitford sisters.
1999
Craigengillan bought by Mark Gibson.
Suspension Bridge built across the river Doon at the foot of Ness Glen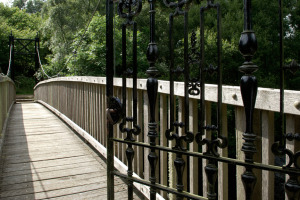 Scottish Dark Sky Observatory.